Léčba infarktu myokardu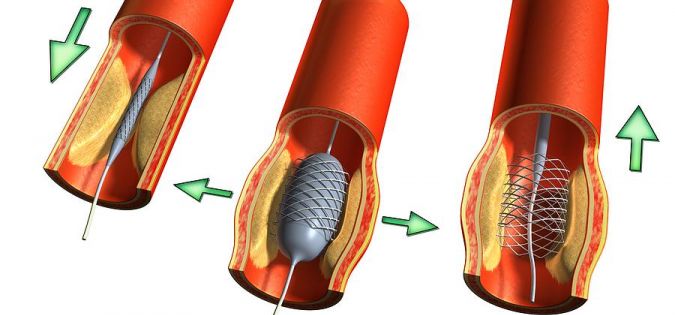 Infarkt myokardu znamená odumírání buněk srdce kvůli nedostatku okysličené krve. Toto onemocnění v dnešní době postihuje stále více lidí. Léčba infarktu myokardu je tak v popředí zájmu lékařů. Nejdůležitější ze všeho je, aby byla léčba infarktu myokardu zahájena co nejdříve od jeho vzniku. Naštěstí máme v ČR jednu z nejlepších sítí tzv. kardiocenter, zařízení specializujících se na léčbu infarktu myokardu.
Léčba infarktu myokardu
Infarkt myokardu je nemoc, při které dochází k odumírání srdečních buněk kvůli nedostatečnému přísunu okysličené krve. Krev k srdečním buňkám nepřitéká, protože přívodné tepny jsou ucpány, a to nejčastěji kvůli krevní sraženině, která nasedá na cévu zúženou aterosklerózou. Cílem léčby infarktu myokardu je cévu opět zprůchodnit a obnovit tak přívod okysličené krve k srdečním buňkám. Léčba infarktu myokardu je hra o čas. Čím rychleji se dostane postižený do nemocnice, tím je léčba úspěšnější a srdce méně poškozené. Při včasné léčbě infarkt zanechá na srdci nemocného menší trvalé následky. Na akutní infarkt myokardu umírá cca 25 % postižených pacientů, většina z nich ještě než se dostane k lékaři. Do hodiny od prvních příznaků by si měl člověk zavolat lékařskou pomoc.
Příznaky infarktu myokardu
Infarkt myokardu má celou řadu příznaků, které se mohou různě kombinovat. U některých pacientů, typicky u diabetiků, může infarkt proběhnout zcela bezpříznakově. V každém případě, pokud zaznamenáte příznaky, jako silnou bolest na hrudi, která může být svíravá nebo vystřelující do oblasti levého ramene, mezi lopatky nebo do čelisti, pocení, nevolnost, zvracení, ztížené dýchání, a máte podezření na akutní infarkt myokardu, je třeba neprodleně zavolat záchrannou službu. 
První pomoc při infarktu myokardu
Při podezření na infarkt myokardu je nutné neprodleně zavolat rychlou záchrannou službu. Dbáme na to, aby pacient zůstal v klidu, nesmí nejíst, pít ani kouřit. Je vhodné si akutně vzít tabletu aspirinu nebo nitroglycerin pod jazyk. V případě bezvědomí a zástavy oběhu je třeba neprodleně začít s neodkladnou resuscitací. Po příjezdu potvrdí lékař rychlé záchranné služby diagnózu na základě příznaků, EKG a anamnézy nemocného. Urgentně se podává kyselina acetylsalicylová, například aspirin a dále heparin, který potlačí tvorbu a další zvětšování krevní sraženiny. Dalším preparátem je nitroglycerin, který působí roztažení cév a kyslík se tak snadněji dostává do tkání. Proti silným bolestem se podává dávka morfinu. Následuje transport do specializovaného kardiocentra, které je informováno předem a je připraveno na okamžitý zákrok.
Diagnostika infarktu myokardu
K definitivnímu potvrzení infarktu myokardu se na tzv. katetrizačním sále provede koronarografie. Jde o rentgenové vyšetření věnčitých tepen pomocí tenkého katétru a kontrastní látky. Tenký katétr, tedy ohebná cévka, se zavede pravým tříslem do stehenní tepny a proti směru toku krve se zasune až do aorty a k ústí věnčitých tepen. Pokud není možné katétr zavést přes tříslo, zavádí se přes tepnu na předloktí. Přes katétr je vstříknuta do věnčitých tepen kontrastní látka, která je viditelná na speciálním rentgenu, a lékař tak může sledovat průběh věnčitých tepen, popřípadě jejich zúžení nebo úplné ucpání. Koronarografie nám tedy dává informaci o rozsahu a lokalizaci postižení.
Léčba infarktu myokardu
Infarkt myokardu je stav, který je nutné bezprostředně po jeho vzniku léčit, jelikož je pacient ohrožen na životě. Léčba se liší podle doby od vzniku infarktu myokardu. V závislosti na zásahu do organismu při léčbě infarktu myokardu bychom mohli rozlišit invazivní a neinvazivní léčbu.

Invazivní léčba
Invazivní léčba znamená, že je nutný průchod nástrojů do vnitřku těla. Po potvrzení diagnózy infarktu myokardu nastává čas na zprůchodnění tepny. Ke zprůchodnění tepny se provádí balónková koronární angioplastika. Stejným způsobem se zavede jiná cévka, na jejímž konci se nachází balónek. Umístí se do uzavřeného úseku tepny a poté se balonek nafoukne. Tím se vnitřek cévy roztáhne a je tak opět průchodná. Aby se znovu neuzavřela, vloží se do tohoto místa stent. Jedná se o kovovou spirálu, která se roztáhne a tím vyztuží cévu, kterou udrží průchodnou. Celý výkon se provádí při vědomí, není pro pacienta nijak zvlášť nepříjemný a problém je rychle vyřešen. Do srdce tak opět proudí dostatek krve. Pokud je postižení na koronárních artériích natolik rozsáhlé, že nelze angioplastiku provést, existuje chirurgické řešení, a to našití bypassů. Jde o kardiochirurgickou operaci, při které se našije náhradní céva, tzv. bypass, před a za uzavřené místo na věnčitou tepnu, takže krev postižené místo obchází. Jako náhradní cévy se používají vyoperované žíly z dolních končetin nebo tepny z hrudníku. Jde o velice náročnou operaci, která se provádí v celkové anestezii, za použití mimotělního oběhu.
Neinvazivní léčba
Neinvazivní léčba znamená, že nedochází k průniku žádných přístrojů či nástrojů do těla pacienta. Při nekomplikovaném průběhu infarktu myokardu, po provedení angioplastiky, trvá hospitalizace přibližně týden. Po propuštění z nemocnice pacient užívá čtyři druhy léků. Je třeba bránit zvýšené krevní srážlivosti, aby nedocházelo k ucpávání cév, čehož se dosáhne užíváním například Klopidogrelu či kyseliny acetylsalicylové. Dále je nutné snížit krevní tlak a chránit tak srdce před nadměrnou námahou, aby nepumpovalo krev proti vysokému odporu. K tomu se užívají tzv. antihypertenziva, zejména ACE-inhibitory nebo sartany. Stejně tak je nezbytné chránit samotný srdeční sval před vyčerpáváním snížením srdeční frekvence a snížit tak i nároky srdce na výživu. Toho dosáhneme pravidelným užíváním tzv. betablokátorů. V neposlední řadě je třeba upravit hladinu LDL-cholesterolu, který způsobuje aterosklerózu, za použití statinů. Stejně důležitá je ovšem i úprava životosprávy. Zásadní je přestat kouřit, upravit dietu a zařadit pravidelný pohybový program.