Transplantace plic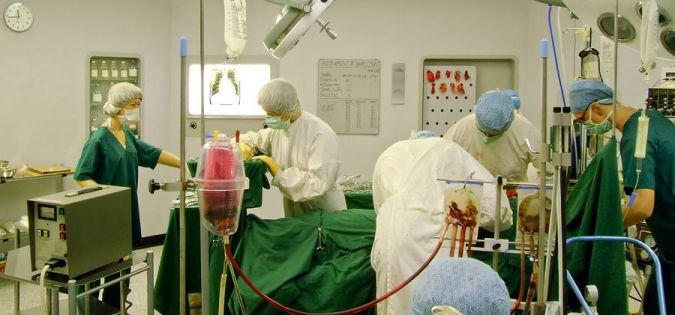 Transplantace plic je velice komplikovaný a náročný chirurgický zákrok. K transplantaci se používají plíce osob zemřelých většinou při nehodách, které je nutné co nejrychleji dopravit k příjemci. Po voperování nových plic je nutné sledovat, zda nebude plíce po transplantaci tělem příjemce odmítnuta. Aby se redukoval výskyt této reakce, podávají se pacientovi tzv. imunosupresiva, což jsou látky tlumící imunitní reakci pacienta. Tyto látky mají ale i vedlejší účinky a může díky utlumení imunitního systému dojít po transplantaci k různým nežádoucím infekcím a zánětům.
Transplantace plic
Transplantace plic je přenesení celého orgánu, nebo jeho části z těla dárce do těla příjemce. Plíce se někdy, společně se srdcem a mozkem, řadí k životně důležitým orgánům, bez kterých není možné přežívat. Jsou místem, kde dochází k výměně dýchacích plynů mezi vzduchem a krví a zajišťují tak zásobování organismu kyslíkem a odstraňování škodlivého oxidu uhličitého. Bohužel jsou však plíce poměrně často ohroženy různými chorobami, které snižují nebo zcela omezují jejich funkci, pak je nutné zahájit léčbu. Ta je u různých nemocí odlišná a závisí především na příčině vzniku a stupni rozvoje onemocnění. V některých případech je však již poškození plicní tkáně tak rozsáhlé, že se nepodaří plíce žádnou dostupnou léčbou zachránit a je třeba přistoupit k jejich náhradě. Kromě tzv. umělé ventilace, kdy je výměna plynů zajišťována speciálními přístroji a pacient je trvale upoután na lůžko, připadá v úvahu také transplantace plic.
Průběh transplantace plic
Transplantace plic je velice komplikovaný a náročný zákrok, jehož postup je přesně stanoven. Nejprve je nutné získat nové plíce od zemřelého dárce. Většinou jde o jedince, kteří přišli o život při různých nehodách, nejčastěji při úrazech hlavy nebo na následky krvácení do mozku. U nich je totiž pravděpodobnější, že plíce, srdce, ledviny, játra i další orgány nebyly poškozeny a při dostatečné lékařské péči mohou být použity pro transplantaci. Většinou se odebírá více orgánů najednou a ty pak mohou být použity pro více pacientů. Je velmi důležité, aby doba, po kterou se orgány nacházejí mimo tělo, byla co nejkratší. Jinak na nich může dojít k nevratným změnám, které by znemožnily jejich další použití. Vlastní operace je zahájena vyjmutím jedné nebo obou nefunkčních plic z těla příjemce a následně jsou voperovány plíce nové. Hlavní plicní tepny a žíly jsou napojeny na srdce příjemce, aby mohl být obnoven krevní oběh, poté se napojí průdušky příjemce k průduškám darovaných plic. Tím je umožněno proudění vzduchu dýchacími cestami do plicních laloků a z plicních laloků ven. Po operaci je nutná intenzivní péče o příjemce a nepřetržité sledování jeho stavu, aby se včas odhalily a vyřešily případné komplikace.
Indikace transplantace plic
Indikace znamená takový stav organismu, u kterých je nutné provedení určitého léčebného či diagnostického výkonu. V případě transplantace plic to jsou:
histiocytóza X
sarkoidóza
idiopatická plicní fibróza
vrozený plicní emfyzém
chronická obstrukční plicní nemoc
cystická fibróza
bronchiektázie
lymphangioleiomyomatosa
Kontraindikace transplantace plic
Kontraindikace znamená takový stav pacienta, který zabraňuje provedení diagnostického či léčebného výkonu. V případě transplantace plic to jsou kouření, alkoholismus, závislost na drogách, zhoubná nádorová onemocnění, žloutenka typu B i C, onemocnění srdce a ledvin, ale i věk pacienta nad 60–65 let.
Komplikace transplantace plic
Hlavní komplikací transplantace může být reakce imunitního systému příjemce vůči voperované plíci, která pro organismus představuje cizorodý materiál. Této životu nebezpečné reakci je možné zabránit celoživotním podáváním léků tlumících imunitní reakci, tzv. imunosupresiv. Tyto látky mají za úkol zabránit tzv. rejekci, tedy odhojení transplantované plíce. Bohužel má používání imunosupresiv řadu nežádoucích účinků a je často nutné užívat další léky, které tyto nežádoucí účinky omezují.K dalším nežádoucím důsledkům transplantace patří zanesení infekce do hrudní dutiny. Ta může pacientův zdravotní stav, který je již výrazně zhoršen složitým operačním zákrokem, dále zkomplikovat. Vzniku pooperační infekce nahrává především snížení funkce imunitního systému imunosupresivní léčbou. Kromě toho mohou imunosupresiva, ale i další léky podávané po transplantaci, způsobovat mnoho dalších potíží jako například vysoký krevní tlak, poruchu funkce ledvin nebo zvýšenou hladinu cholesterolu a cukru v krvi.
Přežití po transplantaci plic
Transplantace plic je velmi náročný chirurgický zákrok, který na jedné straně přináší pacientovi naději na přežití, na druhou stranu však s sebou nese mnohá rizika a komplikace. Úspěšnost transplantací plic se v posledních letech výrazně zlepšuje. Až 70–80 % pacientů přežívá 1 rok po transplantaci, 5 let se dožije 50–55 % pacientů.