Burzitida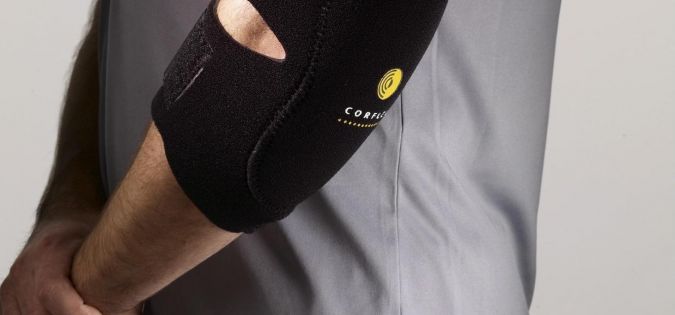 Burzitida je zánět kosti a kloubu, který vzniká často následkem přetížení některého z kloubů, např. u studentů loktů při opírání o stůl, tkalců hýždě od dlouhého sezení či u zahradníků kolena od klečení na zemi. Léčba burzitidy pak spočívá v klidovém režimu, nezatěžování postižené části těla, studených obkladech, v případě bakteriální infekce se podávají antibiotika, kortikosteroidy či se přikročí k chirurgické léčbě.
Burza je váček vyplněný tekutinou, který se vyskytuje v okolí kloubu a kostí. Jeho účelem je sloužit jako podložka mezi kostí a nad ní probíhající šlachou, aby snížil jejich vzájemné tření. Burzitida je zánět postihující některý z těchto váčků. Jde o dosti bolestivou záležitost, kterou je třeba léčit. V minulosti byla jedna z forem tohoto onemocnění známa jako "mozoly služek", které se tvořily nad kolenními klouby po opakovaném klečení při mytí podlahy. Dnes už je tento obraz výjimečný, ale záněty burz se vyskytují přesto hojně, často následkem přetížení některého z kloubů.
Druhy burzitidy
Známe dva druhy burz. Častější je anatomická burza, která se vyskytuje na místech vzájemného tření šlach a kloubů. Jenom okolo kolena se jich vyskytuje 15. Jejich existenci vůbec nezaznamenáme, dokud se nezanítí a nerozvine se v nich burzitida.
Druhý typ burzy vzniká druhotně jako následek opakovaného tření měkké tkáně o povrch kosti nebo jako následek jejího poranění. Jsou to získané burzy. Mohou vzniknout například v hýžďové krajině nad pánevní kostí při dlouhodobém opakovaném sezení na tvrdém povrchu.
Oba typy burz mají stejný účel: snížit tření tam, kde šlachy a vazivo probíhají přes kosti, a omezit tlak na tkáň uloženou pod nimi. Burzitida vzniká tehdy, když se váček chronicky zvětší nebo když jej postihne akutní zánět.
Zmíněné služebné trpěly zánětem prepatelární burzy, opakovaný tlak vedl k otoku a zmnožení tekutiny ve váčku před čéškou.
Jeden druh burzitidy, který se často vyskytuje u dětí, se nazývá semimembranózní burzitida. Projevuje se otokem v podkolenní jamce a její příčina není známa. Onemocnění se obvykle zhojí bez léčby během několika týdnů. Během této doby je vhodné nevystavovat koleno zvýšené nebo déletrvající námaze.
Příčiny burzitidy
Ne všechny příčiny burzitid jsou vždy zřejmé. I když onemocnění postihuje jak dospělé, tak děti, někteří lidé jím trpí více. Onemocnění může vyvolat zvýšená námaha určitých tělesných partií a objevuje se častěji při některých činnostech. Burzitida loketního kloubu postihuje studenty, kteří se opírají lokty o stolní desku, a horníky, kteří se plazí štolami. Nosiči mívají burzitidy v oblasti šíje, které jsou vyvolány tlakem břemen. Tkalci mívali burzitidy na hýždích od dlouhého sezení na sedátkách tkalcovských stavů, zahradníci burzitidy na kolenou od klečení na zemi. Burzitidu však nelze vždy vysvětlit jen vlivem přetížení, už proto, že u některých osob se vyvine mnohem rychleji než u jiných.
Vzácněji vyvolá zánět burzy bakteriální infekce burzy samotné nebo sousedícího kloubu. V minulosti byla častou příčinou tuberkulóza. Záněty burz okolo postižených klubů se někdy objevují při revmatoidní artritidě a vzácně se může burzitidou ohlásit i dna.
Při burzitidě lokte, která často postihuje starší muže, se někdy z neznámé příčiny objevuje nad loktem během několika hodin otok velikosti slepičího vejce.
K zánětu je také náchylná pata, nebo přesněji Achillova šlacha. Zánět burzy v tomto místě nazýváme achilloburzitidou.
Příznaky burzitidy
Při akutní burzitidě se nad kloubem nebo nad kostí objeví otok. Oteklé místo je bolestivé, na pohmat napjaté, může být teplé nebo zarudlé. V těžších případech je pohyb velmi bolestivý. Tekutina ve váčku je produktem buněk tvořících jeho vnitřní výstelku. Tyto buňky produkují slámově zbarvenou tekutinu, často s příměsí krve, když vlivem zánětu krvácejí drobné cévy ve stěně váčku. Při bakteriální infekci, kdy tekutina obsahuje bakterie a bílé krvinky, může mít i vysloveně hnisavý vzhled.
Chronická burzitida bývá následkem opakovaných akutních zánětů nebo přetížení. Zpravidla je lehce bolestivá nebo se projeví po námaze nebo přetížení jako nebolestivý otok.
Léčba burzitidy
Pokud je příčinou akutní burzitidy bakteriální infekce nebo některá z méně obvyklých příčin, měla by léčba probíhat pod lékařským dohledem.
V ostatních případech, kdy je příčina nejasná nebo je příhoda zjevně následkem přetížení, je vhodné postiženou část těla nezatěžovat, kloub by měl být v klidu, se svaly v okolí je třeba cvičit pouze pasivně. Při bolesti se podávají běžná analgetika. Protizánětlivé léky, jaké se používají při zánětech kloubů, mohou snížit množství tekutiny vylučované do nitra váčku. Antibiotika jsou vhodná jen při bakteriální infekci. Studený obklad nebo led přispěje ke zklidnění zánětu. Na postižené místo se přiloží pytlík naplněný drceným ledem z chladničky. Předtím se přesvědčte, že vak není natolik studený, aby poškodil kůži. Přiložený ledový vak se převáže lehce elastickým obinadlem a ponechá se na místě půl hodiny. Poté se odstraní. Pokud to přinese úlevu, opakujte léčbu tak často, jak je to jen možné, dokud se onemocnění nezlepší.
Pokud nedojde k úlevě do dvou až tří dnů, může lékař zavést do burzy drén nebo ji vypustit po nabodnutí injekční jehlou, obvykle to pacientovi pomůže. Před punkcí se místo vpichu umrtví, jehla se zavede hluboko do nitra burzy a odsaje se tekutina, která se pošle na mikrobiologické vyšetření, aby se zjistilo, zda jsou v ní přítomné bakterie.
Lékař může také do burzy vpravit hydrokortizon, kortikosteroid, který má protizánětlivý a zklidňující účinek na zanícenou tkáň. Brání mimo jiné dalšímu hromadění tekutiny v burze. Po vypuštění obsahu se burza pevně převáže. Léčbu je možné v případě nutnosti i vícekrát opakovat.
Když se chirurgicky odstraní chronicky nemocná burza, bývá jedním z příznačných nálezů přítomnost vloček sražené bílkoviny, které lékaři nazývají podle jejich vzhledu a barvy "melounová semínka". Nemají žádný praktický význam. Chirurg při operaci odstraní a vyčistí co největší část burzy. Operace se většinou setkává s úspěchem, ačkoliv v malém počtu případů se burza může v několika týdnech obnovit.
Výhled do budoucna
Při akutní burzitidě můžeme očekávat bolesti a omezení pohybu po dobu týdne až deseti dnů, pokud je léčba úspěšná, je-li příčinou bakteriální infekce, pak recidivy onemocnění bývají vskutku velmi řídké.
Chronická burzitida vzniká na podkladě dlouhodobého přetěžování nebo dráždění. Z tohoto důvodu je velmi důležitá prevence.