Impetigo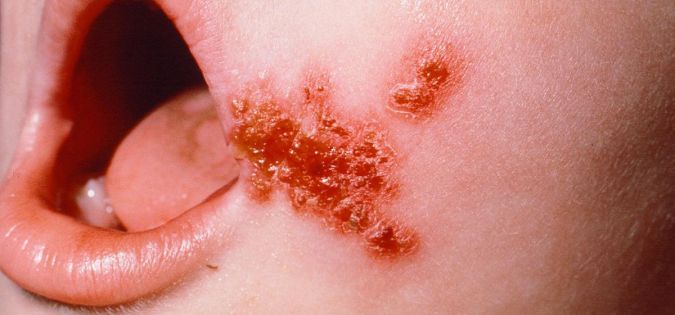 Impetigo je nakažlivé kožní onemocnění postihující povrchové vrstvy kůže. Nejčastěji postihuje již poškozenou kůži například po popáleninách. Impetigo se nejvíce šíří v dětských kolektivech nebo při kolektivních sportech, kde je nejsnazší šíření nákazy. Pokud je impetigo včasně diagnostikováno, je poměrně snadno léčitelné antibiotickými mastmi. V případě komplikací je však nutno nasadit antibiotika celková.
Impetigo
Impetigo je poměrně závažná kožní infekční nemoc, která se díky své velké nakažlivosti velmi snadno šíří v dětských kolektivech a postihuje povrchové vrstvy kůže. Typicky napadá kůži předem již poškozenou a to ať už jiným kožním onemocněním, například ekzémem, nebo mechanicky odřeninami, popáleninami,či pokousáním zvířetem či hmyzem. Často také dochází k tzv. impetiginizaci, což je v překladu zanesení bakterií, které impetigo způsobují, do hlubších vrstev kůže při jiném kožním onemocnění.
Vznik impetiga
Impetigo je infekční onemocnění způsobené bakteriemi. Bakterie, které jsou zodpovědné za toto onemocnění, jsou některé druhy stafylokoků a streptokoků. Jde tedy o mikroorganismy, které se běžně vyskytují na povrchu lidského těla. Proto se také snadno dostávají přes poškozenou kůži do organismu. Méně často se impetigo vyskytuje na kůži, která je zdravá a nepoškozená. 
Typy a projevy impetiga
Podle vzhledu a lokalizace poškození kůže dělíme impetigo na dvě základní skupiny a to impetigo bulózní a impetigo nebulózní.
Bulózní impetigo je typicky lokalizováno na trupu a dolních končetinách. Jak vyplývá již z názvu, tento typ impetiga je tvořen tzv. bulami. Buly jsou puchýře větší než pět milimetrů a jsou vyplněné čirou tekutinou.
Naproti tomu nebulózní impetigo je charakteristické tvorbou velmi drobných puchýřků, které připomínají akné a často ani nejsou zaznamenány. Tyto puchýřky brzy praskají a jejich povrch je pokryt žlutohnědou krustou neboli strupem. Častou lokalizací nebulózního impetiga je obličej.
Tyto dvě formy impetiga jsou většinou nebolestivé, může se však objevit svědění, zvýšená teplota a někdy také zduření místních mízních uzlin. Nejzávažnější formou impetiga je tzv. echtyma, při které se bakterie rozšíří do hlubokých vrstev kůže. Poté se vytváří velmi bolestivé puchýře, které jsou naplněné čirou tekutinou nebo hnisem a tyto puchýře se obtížně hojí a následně přecházejí v hluboké vředy a zanechávají rozsáhlé jizvy. Někdy může bakteriální infekce postihnout také vlasové váčky neboli folikuly, pak se onemocnění nazývá folikulitida.
Přenos impetiga
Impetigo je onemocnění, které nejčastěji postihuje děti, jelikož dětské kolektivy naskýtají ideální podmínky pro šíření těchto bakterií. K tomu dochází prostřednictvím tekutiny z puchýřů a díky častému vzájemnému kontaktu mezi dětmi tak může přenos nemoci probíhat poměrně velkou rychlostí. Nebezpečný je nejen osobní kontakt s dítětem trpícím impetigem, ale také s jeho osobními věcmi, jako jsou různé hygienické pomůcky, ručníky a další. Proto je potřeba dodržovat hygienické podmínky a nepůjčovat si s ostatními dětmi oblečení, či ručníky. Dětský imunitní systém je v porovnání s imunitním systémem dospělých poměrně málo vyvinutý a bakterie tak mají větší šanci organismus poškodit. Další možností přenosu impetiga jsou různé kontaktní sporty a jiné aktivity, při kterých může dojít ke kontaktu mikroorganismů s nechráněnou poškozenou kůží. Zvýšený výskyt impetiga je pozorován v letních měsících, protože bakteriím se lépe daří v teplém a vlhkém prostředí.
Rizikovou skupinou, u které se častěji vyskytuje impetigo, jsou také pacienti s nejrůznějšími kožními chorobami nebo se sníženou imunitou, například cukrovkáři, či pacienti se zhoubným onemocněním.
Komplikace impetiga 
Komplikace impetiga nebývají nikterak vážné a nejčastěji dochází k rozšíření léze do plochy i na další části těla. Někdy může dojít i ke změnám pigmentace kůže, k tvorbě jizev, či ke znehodnocení kůže. Vzácně se může vyskytnou i poststreptokoková glomerulonefritida, tedy zánět ledvin, který může vést až k selhání ledvin.
Diagnostika impetiga 
Diagnostika impetiga je často stanovena pouhým pohledem na charakter lézí. U nejasných případů je vhodné odebrat vzorek tekutiny z puchýřků a poslat jej na mikrobiologické vyšetření. Zde očekáváme průkaz přítomnosti stafylokoků, či streptokoků. Současně je stanovena i citlivost na antibiotika, která se užívají nejčastěji ve formě mastí k léčbě tohoto onemocnění.
Léčba impetiga
Léčba impetiga spočívá v zastavení šíření tohoto onemocnění, zmírnění jeho příznaků a nakonec urychlení hojení kůže. Doporučuje se dbát o hygienu a dezinfikovat všechny rány a oděrky. Stejně jako jiné infekční choroby se i impetigo léčí antibiotiky. Při málo závažném průběhu impetiga postačují antibiotické masti a omezení fyzické aktivity. Pokud se však impetigo rozšíří na větší plochu těla nebo je doprovázeno vysokou horečkou, je třeba nasadit antibiotika celková, která se užívají v tabletách. Dnešní péče o děti je však ve většině případů natolik důsledná, že výskyt této nemoci je zjištěn již v raném stádiu a léčba impetiga tedy není náročná a většinou ani není nutné, aby probíhala dlouhodobě.