Plicní embolie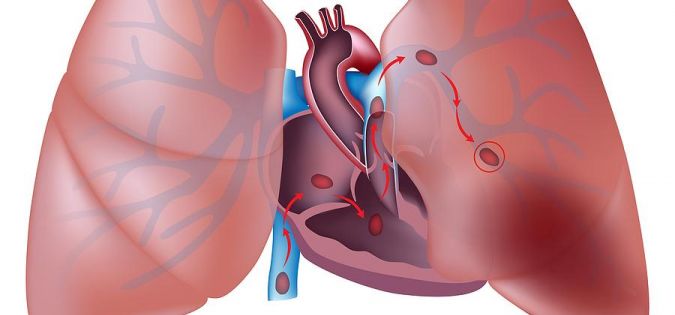 Plicní embolie vzniká při uzávěru plicních tepen a vlásečnic embolem. Embolus má většinou podobu krevní sraženiny, která vzniká nejčastěji po chirurgických zákrocích, popřípadě vlivem špatné srážlivosti krve. Mezi hlavní projevy plicní embolie patří promodrání prstů a rtů, dušnost až kolaps části plic. Jako prevence vzniků trombů se v současnosti užívají léky proti srážlivosti krve, ale také bandáže.
Plicní embolie 
Plicní embolie je život ohrožující stav, při kterém dochází k uzávěru plicnice či plicních tepen  embolem. Embolus je nejčastěji krevní sraženina, ale může to být i tuková tkáň, plodová voda při porodu, vzduch při potápění nebo cizí těleso. Je náročné stanovit diagnózu plicní embolie, jelikož se podobné příznaky vyskytují i u jiných onemocnění. 
Krevní oběh v plicích
Neokysličená krev z celého těla je přiváděna horní a dolní dutou žilou do pravé srdeční síně, z té do pravé srdeční komory a odtud je plicní tepnou odváděna do plic. Tam se tepna dělí na menší tepny, tepénky a vlásečnice. Ve vlásečnicích dochází k přestupu oxidu uhličitého, který vzniká ve tkáních, do plicních sklípků a naopak k přestupu kyslíku, přítomného ve vdechovaném vzduchu, do krve. Krev z vlásečnic teče do plicních žil a ty přivádějí okysličenou krev do levé srdeční síně, z níž teče krev do levé srdeční komory a přes největší tepnu, aortu, je tato krev rozváděna do celého těla.
Příznaky plicní embolie
Příznaky plicní embolie nemusí být vždy vyjádřeny z důvodu malých rozměrů vmetků, pak mluvíme o tzv. klinicky němé plicní embolii. Pokud ovšem vyjádřeny jsou, pak záleží na rozsahu embolie. Při plicní embolii dochází k vzestupu plicního tlaku díky blokádě krevního řečiště. To se odrazí na práci pravé srdeční komory a síně, které akutně selhávají.  Základními příznaky plicní embolie jsou dušnost a s ní i zrychlené dýchání, cyanóza, tedy promodrání prstů a rtů, bolest na hrudi, zrychlená srdeční činnost, snížení krevního tlaku až ztráta vědomí a někdy se může objevit i kašel s vykašláváním krve.
Příčina vzniku plicní embolie
V 85 % případů je zdrojem plicní embolie trombóza v hlubokých žilách dolních končetin. Jde o krevní sraženinu, která se z žilní stěny uvolní a proudem krve je unášena do plicního cévního řečiště. Často se ale zdroj vůbec nenajde. Při vzniku trombózy se uplatňují faktory jako poškození cévní stěny, zvýšený sklon ke srážlivosti krve a zpomalení toku krve v žilách. Je známo několik rizikových faktorů, při kterých vzniká v žilách sraženina. Kromě vrozených poruch krevní srážlivosti to jsou operace a jiné chirurgické výkony, zejména u osob nad 40 let, dále poranění dolních končetin a pánve, imobilní pacienti, zhoubné nádory, srdeční selhání, obezita, křečové žíly, hormonální antikoncepce, těhotenství, cévní mozková příhoda, trombóza či plicní embolie u rodinných příslušníků a dlouhé cesty dopravními prostředky. 
Diagnostika plicní embolie
Stanovení diagnózy není jednoduché, jelikož se stejné příznaky vyskytují u velké škály dalších onemocnění. Přesto se vychází z klinických příznaků a z laboratorních testů, kde pátráme hlavně po poruchách srážlivosti krve. Dále jsou pro stanovení diagnózy důležité zobrazovací metody jako elektrokardiografie (EKG), rentgen hrudníku a CT. Elektrokardiografie je metoda snímající elektrickou aktivitu srdečního svalu a v případě plicní embolie se na záznamu objeví známky přetížení pravé komory srdce z důvodu ucpání plicnice, tepny z ní vycházející. K potvrzení přítomnosti trombu v žíle je možné využít ultrazvuku. Stěžejní metodou pro potvrzení plicní embolie je CT, tj. počítačová tomografie. Jde o moderní zobrazovací metodu, která pomocí rentgenových paprsků vytváří velice detailní obraz lidského těla.
Léčba a prevence plicní embolie
Prevence plicní embolie spočívá převážně v boji proti trombóze hlubokých žil dolních končetin. Je to závažné onemocnění a projevuje se bolestmi končetin, otoky a změnou barvy kůže. V takových případech je nutné navštívit lékaře. V rámci léčby se podávají tzv. antikoagulancia, tedy léky proti srážení krve. Ty jsou nejprve podávány do žíly, např. Heparin, poté se přechází na formu tablet, např. Warfarin. Doba užívání léků závisí na stavu pacienta, často však bývá doživotní. Takový pacient musí pravidelně docházet na krevní odběry zaměřené na testy srážlivosti krve. V rámci prevence se provádějí bandáže dolních končetin při operacích, následně časná rehabilitace a co nejrychlejší opuštění lůžka. U rizikových žen je nutné zvážit užívání hormonální antikoncepce. Jsou to ženy, které trpí vrozenými poruchami krevní srážlivosti, a ženy, u kterých se v příbuzenstvu vyskytla trombóza žil. U ostatních rizikových pacientů se v určitých případech musejí podávat protisrážlivé léky. V případech, které ohrožují pacienta na životě, se přistupuje k tzv. trombolytické léčbě, při které použitá léčiva rozpouští již vytvořenou sraženinu. Nevýhodou těchto léčiv je riziko krvácení, včetně krvácení do mozku. Proto se k této léčbě přistupuje pouze v těžších případech. Výjimečně lze přistoupit k chirurgickému odstranění krevní sraženiny z cévy. Toho se využívá vzácně, např. při nemožnosti použít trombolytickou léčbu z důvodu rizika krvácení či u pacientů v kritickém stavu.