Polytrauma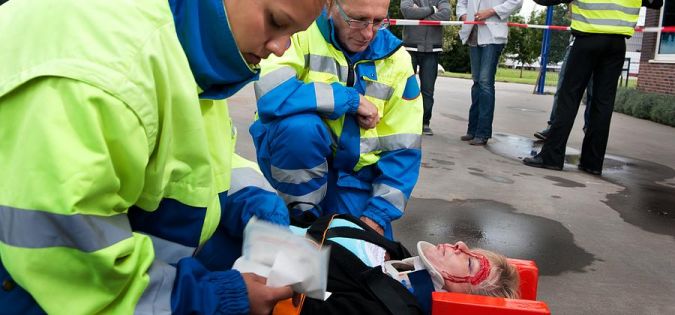 Jako polytrauma jsou označována velmi závažná poranění, které postihují více orgánových soustav. Prognóza polytraumat velmi závisí na první pomoci, která je poskytnuta v první hodině poranění. Polytrauma tvoří nejčastější příčinu smrti ve věku od 1 roku do 40 let věku. Ošetření polytraumatu se zaměřuje na zajištění základních životních funkcí.
Polytrauma
Jako polytrauma (PT) jsou označována velmi závažná zranění, která mají velký rozsah. Je při nich poškozeno vždy více orgánových soustav současně. Orgánovou soustavou je myšlena například nervová soustava, srdečně cévní, trávicí, kosterní a další. A alespoň jedno ze zranění bezprostředně ohrožuje život pacienta. PT vznikají různým způsobem, nejvíce při dopravních nehodách. V současnosti dokonce PT tvoří nejčastější příčinu smrti ve věku od 1 roku do 40 let věku.
Polytrauma jako příčina smrti
Vzhledem k závažnosti poranění při PT část pacientů umírá. Asi 50% úmrtí nastává během prvních 30 minut od vzniku zranění. Důvodem bývají poranění, která jsou neslučitelná se životem, a to nejčastěji rozsáhlá poškození centrální nervové soustavy, srdce a velkých cév. Dalších 30 % úmrtí vzniká během prvních 4 hodin od vzniku úrazu, a to v důsledku velké ztráty krve a poruchy dýchání. Posledních 20% úmrtí se označuje jako úmrtí pozdní a vznikají v dalších dnech po vzniku PT. Jejich příčinou bývá orgánové selhání, vznik krevních sraženin a jejich zanesení do dalších životně důležitých orgánů (nejčastěji plíce), nebo nekontrolovaná a bouřlivá odpověď těla na infekci (tzv. sepse). Části úmrtí je možné předcházet vhodnou a včasnou léčbou. Pacienti s PT potřebují vysoce specializovanou péči, které se jim dostává ve zvláštních zařízeních, tzv. traumacentrech. Lékař, který pacienta ošetřuje na místě nehody, zhodnotí situaci a pokud to stav pacienta vyžaduje, je transportován přímo do spádového traumacentra. Traumacentra v ČR jsou trojího typu: pro dospělé (kterých je 11), pro děti (těch je 7) a popáleninová centra (jsou 3). Nacházejí se v Praze (Motol, Vinohrady, Ústřední vojenská nemocnice), Brně, Plzni, Českých Budějovicích, Hradci Králové, Ústí nad Labem, Liberci, Ostravě a Olomouci. Traumacentra pro děti a popáleninová centra bývají součástí některých traumacenter pro dospělé.
Polytrauma a jeho léčba
Jaký je postup při ošetřování PT? Pacienti s PT mají velká množství různě závažných zranění. Vždy platí, že se snažíme pacienta udržet naživu. Nejprve se tedy zajišťují dýchací cesty, udržuje se krevní oběh a staví se závažná krvácení. Přičemž platí, že resuscitace pacienta (oživování) má přednost před ostatním ošetřením a pokud je třeba, probíhá současně se zajišťováním dýchacích cest, krevního oběhu a vstupního vyšetřování pacienta. Další ošetřování probíhá podle zhodnocení aktuálního stavu zraněného a postupuje se od nejtěžších zranění k nejlehčím. Součástí léčby je stabilizace stavu pacienta, soustavné monitorování životních funkcí, podávání léků (tlumení bolesti, antibiotika, uspání), podávání krve (či různých jejích součástí podle aktuální potřeby) a chirurgická náprava zranění. Pacient většinou prodělá několik operací v průběhu několika dní až týdnů. Během této doby bývá hospitalizován na JIP (jednotka intenzivní péče) nebo na ARO (anesteziologicko-resuscitační oddělení). Když se stav pacienta dostatečně zlepší a není zapotřebí dalších operací, může být přeložen na normální oddělení chirurgie a časem propuštěn do domácího ošetřování s ambulantními kontrolami.
Polytrauma a jeho prognóza
Jak již bylo řečeno, PT jsou závažná poranění. O životě a smrti člověka často rozhodne péče, která je mu poskytnuta během první hodiny po úrazu. Šance na přežití poraněného se mohou výrazně zvýšit, pokud je včas přivolána záchranná služba a poskytnuta první pomoc. Proto pokud to situace dovolí, pokuste se zraněnému pomoci, ale neriskujte při tom vlastní zdraví, nebo dokonce život.