Život ohrožující hodnoty draslíku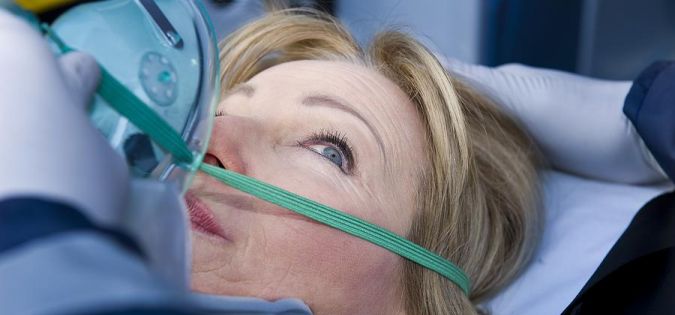 Život ohrožující hodnoty draslíku se dělí na abnormálně vysoké nad 5,5 mmol/l – tzv. hyperkalemie a na abnormálně nízké pod 3,8 mmol/l – tzv. hypokalemie. Život ohrožující hodnoty draslíku způsobují například poruchy srdečního rytmu, který může být právě onou příčinou smrti. Život ohrožující hodnoty draslíku je třeba včas léčit, pro dobrou prognózu.
Život ohrožující hodnoty draslíku
Draslík je jedním z nejdůležitějších iontů našeho těla. Vyskytuje se v iontové podobě K+ hlavně uvnitř buněk. Nejvíce ho obsahují svalové buňky. Mimo buňky se vyskytuje jen v malém množství a jeho koncentrace (kalemie) je několika regulačními mechanismy udržována v úzkém rozpětí od 3,8 mmol/l do 5,5 mmol/l. Sérová hladina draslíku je řízena hormony – aldosteronem, adrenalinem (oba vznikají v nadledvinách) a inzulinem (produkovaný slinivkou břišní). Dalším důležitým regulačním mechanismem koncentrace draslíku je jeho pohyb mezi vnitřkem buňky a jejím okolím. Ten je ovlivňován hlavně kyselostí vnitřního prostředí – tj. koncentrací H+ iontů. Vodíky a draslíky se na buněčné membráně vzájemně vyměňují. Pokud je vodíků zbytečně moc (tj. zvyšuje se kyselost vnitřního prostředí = acidosa), schovávají se do buněk výměnou za draslík, který se tak dostává do tkáňového moku a do krve. Přesto největší část regulace draselné rovnováhy spočívá na ledvinách. Hormon aldosteron působí na ledvinné kanálky. Zde se zahušťuje moč a zpětně se vstřebávají minerální látky. Aldosteron zvyšuje vstřebávání sodíku a vody a zvyšuje vylučování draslíku. Proto pokud dojde k závažnějšímu porušení vylučování, nebo zpětného vstřebávání draslíku, hrozí deregulace draselného metabolismu, která má závažné následky.
Život ohrožující hodnoty draslíku – hyperkalemie
Hyperkalemie je stav, kterým označujeme příliš vysokou hladinu draslíku v krevní plazmě. Obecně to jsou hodnoty nad 5,5 mmol/l.  Při hodnotách nad 6,5 mmol/l se jedná již o velmi závažný stav a při při hodnotách vyšších než 7 mmol/l o život ohrožující stav. Draslík se účastní hlavně nervosvalového přenosu nervového vzruchu. Pokud je ho v krvi hodně, tlumí nervosvalový přenos. To je nebezpečné zejména u srdečního svalu. Dochází k poruchám srdečního rytmu, ke snížení tepové frekvence a následně poklesu krevního tlaku. Objevují se také svalové záškuby a křeče, svalová slabost a tzv. parestezie (pocit mravenčení). Při extrémním zvýšení kalemie nad 9 mmol/l dochází ke komatu a zástavě srdce. K hyperkalemii vede masivní odumírání svalových buněk a červených krvinek při rozsáhlých poraněních. Další příčinou je ledvinné selhávání, zejména pokud je současně zvýšený přívod draslíku např. infuzí, nebo podáváním některých léků – spirolakton, některá diuretika. Hyperkalemie nás nepřekvapí ani u acidosy. Léčba by měla snížit kalemii – můžeme podávat látky, které působí proti draslíku (sodík, vápník) nebo ho rovnou vyvazují. Při zdravých ledvinách podporujeme vylučování draslíku do moči. Pokud jsou hyperkalemie závažné, nebo nereagující na léčbu, je nutná dialýza.
Život ohrožující hodnoty draslíku – hypokalemie
Hypokalemie je stav s koncentrací draslíku pod 3,5 mmol/l. Dochází k němu hlavně při zvýšených ztrátách draslíku – silné průjmy, selhání ledvin, vysoké dávky tzv. kortikosteroidů, léčba diabetické ketoacidosy s nedostatečným doplňováním draslíku a všechny stavy spojené s poklesem kyselosti vnitřního prostředí (alkalózou). Stav se projevuje svalovou slabostí, vznikem poruch srdečního rytmu, alkalózou a je častý i vznik paralytického ileu. Ileus je závažná komplikace, která se projevuje jako náhlá příhoda břišní a vyžaduje urgentní chirurgické ošetření. Léčba spočívá v doplňování draslíku a odstranění či zmírnění vyvolávající příčiny.
Život ohrožující hodnoty draslíku – nutnost lékařského vyšetření
Hyperkalemie ohrožuje všechny pacienty s rozsáhlým poškozením svalové tkáně (např. po polytraumatu, crash-syndromu), ale také diabetiky nedodržující dietu a léčbu. Laik nemůže poruchu kalemie jako takovou jakkoliv poznat. Vždy se ale vyskytuje u stavů, které i jinak výrazně ohrožují zdraví a život, a proto neprodleně vyžadují lékařské ošetření.