Melanom - na koho se obrátit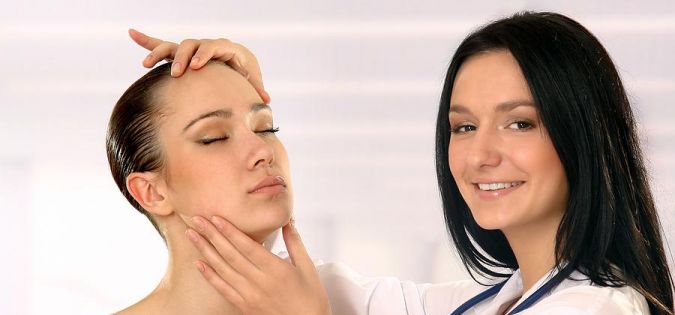 Na koho se můžeme obrátit v případě strachu z melanomu, či podezření na toto onemocnění? Melanom patří mezi kožní nádory a při jeho léčbě je velice důležité nádor podchytit včas. Proto je třeba vědět, na koho se obrátit v případě pochybností, či otázek na melanom. Ať už preventivně nebo při podezření na neobvyklý útvar se lze obrátit na praktického lékaře, kožního lékaře či dermatologickou poradnu.
Melanom - na koho se obrátit
Melanom patří mezi kožní nádory a sám je kvůli svým vlastnostem jedním z nejmalignějších, tedy velice zhoubných nádorů. Nádory kůže jsou všeobecně velmi častou formou rakoviny, avšak na rozdíl od jiných nádorů je lze poměrně rychle zdiagnostikovat, protože jsou dobře viditelné. Melanom není oproti ostatním nádorům až tak častý, ale za posledních 30 let jeho výskyt rapidně vzrostl a to u mladší populace. Proč tomu tak je? Melanom je kožní nádor, který v 70% vzniká de novo, tedy na nepoškozené kůži. Nejrizikovějším faktorem je pro vznik melanomu UV záření a to jak z přírodních zdrojů – slunečních, tak z umělých – ze solárií. Kromě zvýšené expozice těmto faktorům, přispívá vzniku melanomu také nedostatečná ochrana kůže před těmito rizikovými faktory a též zanedbávání a bagatelizace kožních znamének pacientem, kdy si myslí, že přeci o nic nejde, že je to jen znaménko, se kterým ke kožnímu lékaři chodit nemusí. To je ale chyba, protože právě kožní lékař může jako jediný, pomocí speciálních přístrojů, zdiagnostikovat, zda se nejedná o zhoubný nádor. Tím se dostáváme k tomu, na koho se tedy obrátit, aby mohl být melanom úspěšně léčen. Není třeba váhat i při pouhém podezření, že s kůží není něco v pořádku. Lepší je přijít několikrát zbytečně, než jednou pozdě. Podezřelé kožní útvary může nalézt i praktický lékař při pravidelné preventivní prohlídce, proto bychom je neměli zanedbávat i pokud se cítíme zdraví. Při jakémkoliv nálezu je pak pacient odeslán ke kožnímu lékaři.
Průběh vyšetření melanomu
Kožní lékař při vyšetření prohlédne celou kůži a zhodnotí podezřelá znaménka. Používá se při tom přístroj zvaný dermatoskop. Je to vlastně lupa, která dané znaménko zvětší, aby mohlo být lépe a podrobněji prohlédnuto. Dermatoskop může být i digitální a snímky se mohou ukládat do počítače pro pozdější srovnávání. Potvrzení diagnózy melanomu je možné až po histologickém vyšetření. To znamená, že znaménko musí být chirurgicky odstraněno i s částí zdravé kůže okolo. Pokud se melanom potvrdí, následují podle závažnosti nemoci další vyšetření a léčba. Pacient pak pravidelně po dobu minimálně 10 let dochází na kontroly do tzv. melanomové ambulance. Zde je pravidelně vyšetřována kůže a mízní uzliny, případně jsou prováděny další zobrazovací vyšetření jako rentgen nebo ultrazvuk či CT. Důležité je, aby pacient věděl, na koho se může v případě pochybností obrátit. Jednak preventivní prohlídku provádí praktický lékař a nebo se pacient může rovnou obrátit na specialistu, kožního lékaře.
Kam a na koho se obrátit s melanomem
Kam a na koho se obrátit v případě strachu z melanomu? Protože je melanom nejzhoubnějším kožním nádorem, je nutno jej léčit v naprosto počátečním stadiu. Proto jsou nutná také preventivní opatření, při kterých jsou vyšetřována mateřská znaménka. Je v osobním zájmu každého z nás se jednou ročně obrátit na kožního lékaře pro kontrolu znamének. Právě kvůli zvýšení povědomí lidí o výskytu maligního melanomu je každoročně pořádán v květnu tzv. Evropský den melanomu. Během tohoto dne je možné obrátit se na kožní lékaře u vybraných kožních ambulancí či klinik a absolvovat tak zdarma vyšetření znamének. Tuto prohlídku může využít kdokoliv, ale určitě by ji neměli vynechat lidé se světlou pokožkou, velkým počtem mateřských znamének a ti, u kterých se v rodině již rakovina kůže vyskytla, či byl její výskyt v rodině. Tento den by také měl upozornit na prevenci a nutnost ochrany před škodlivým ultrafialovým slunečním zářením.
Prevence vzniku melanomu
V případě jakýchkoliv pochybností nebo otázek ohledně melanomu je možné se obrátit na praktického lékaře, kožního lékaře či dermatologickou poradnu. Nejlepším řešením je však pravidelné absolvování preventivních prohlídek. Můžeme se tak vyvarovat různých mýtů a pověr, které často kolují mezi lidmi či po internetu. U melanomu není na co čekat, velmi důležitý je včasný záchyt tohoto onemocnění. Základem je nechat se vyšetřit včas, protože se jedná o onemocnění, které při zanedbání vytváří kdekoliv v těle metastázy, což je v podstatě rozsev nádorových buněk krví dál do těla. V takovém případě již vyléčení není možné a i přes veškerou snahu melanom v pozdním stadiu končí rychlou smrtí. Nezastupitelnou roli hraje jako u každého onemocnění samotné preventivní opatření, které může každý z nás učinit sám a zdarma. Zbytečné či nadměrné vystavování naší kůže slunečnímu záření ať už přírodnímu, či v soláriích, může proces vzniku maligního melanomu jen urychlit. Proto je důležité se před ním chránit a to jak ochrannými krémy s vysokým faktorem, oděvem či pobytem ve stínu a to obzvláště v době, kdy jsou sluneční paprsky pro naši kůži nejagresivnější.