Bakterie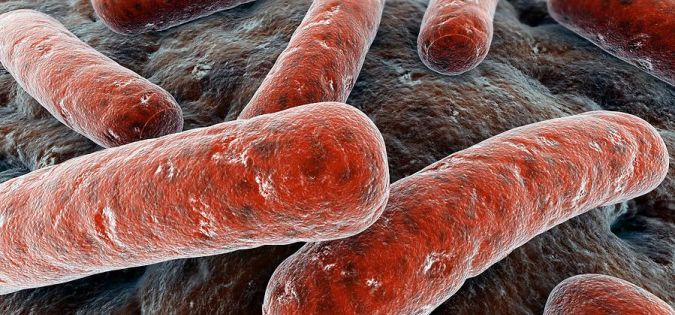 Bakterie jsou jednobuněčné organismy, které žijí všude kolem nás. Pro člověka má bakterie velké množství významů. Nejčastěji bývají bakterie spojeny s nemocemi, ale jsou taktéž hojně využívány v průmyslu a tvoří v našem těle mikroflóru, která je pro nás v mnoha ohledech prospěšná.
Bakterie
Bakterie patří mezi tzv. mikroorganismy, z čehož vyplývá, že jsou to organismy velmi malé a pouhým okem neviditelné. Jsou to jednobuněčné organismy (jejich tělo tvoří pouze jedna jediná buňka), k jejichž zkoumání je nutný mikroskop, který je schopen přiblížit pozorovanou část prostředí natolik, že jsou vidět i tyto maličké organismy. Bakterie jsou totiž veliké průměrně jen několik mikrometrů (tisícin milimetru). To také vysvětluje, proč se dlouho o bakteriích nevědělo a nemoci byly spojovány s hněvem bohů, s duchy apod. Jsou to organismy, které potkáváme na každém kroku, nelze se jim vyhnout, jsou nejrozšířenější skupinou organismů na světě. Nosíme si je také neustále s sebou ve vlastním těle a na něm.
Významné objevy bakterií
Prvním objevem bakterií se může pyšnit holandský vědec Antoni van Leeuwenhoek, který teprve v roce 1676 zkonstruoval mikroskop a díky němu mohl pozorovat bakterie a jiné mikroorganismy jako např. prvoky. Od tohoto objevu začali vědci a lékaři chápat, co stojí za mnohými nemocemi, hnisavými ranami a smrtí pacientů po operacích, porodech atd. Tak či tak, účinná léčba bakterií - antibiotika - byla objevena až v roce 1928. Šlo o antibiotikum penicilin, který sir Alexander Fleming objevil náhodou, jde totiž o látku produkovanou plísní Penicillium notatum. Ta mu vyrostla na misce, na které pěstoval bakterie a ty byly velmi rychle zahubeny. Čistý penicilin se podařilo vyrobit až ve čtyřicátých letech minulého století a ve velkém byl produkován během druhé světové války. Penicilinem byli tehdy léčeni vojáci a mnohým z nich to tenkrát zachránilo život. Toto antibiotikum se produkuje ve velkém množství dodnes, i když máme stále nové a nové látky, jež jsou účinnější než penicilin, který není schopen zabít všechny druhy bakterií. Zároveň je na něj čím dál tím více bakterií zvyklých a toto antibiotikum je dnes již není schopno zabít, i když na začátku používání si s nimi poradilo lehce. Penicilin však dodnes zůstává jedním z nejbezpečnějších antibiotik používaných bez problémů i u malých dětí. Sir Alexander Fleming spolu s dalšími vědci za jeho objev a přípravu v čisté formě obdrželi Nobelovu cenu.
Bakterie a jejich výskyt
Bakterie jsou všude kolem nás. Odhaduje se, že v jednom gramu půdy žije asi 40 milionů bakterií, ve vodě a vzduchu je jich méně. Záleží to na druhu bakterie – různé druhy jsou různě odolné, mají různé nároky na okolní podmínky. Jsou bakterie, které jsou schopny přežít ve vysokých či velmi nízkých teplotách, ve vysokém tlaku, velmi slané vodě atd. Existují bakterie, které žijí v prostředí kolem nás, aniž bychom o tom věděli, aniž by nám zasahovaly do života. Dále máme bakterie, které žijí na našem těle a tvoří tzv. mikroflóru na kůži, sliznici trávicího traktu (především tlustého střeva) na poševní sliznici atd. Jsou to bakterie, které využívají prostředí, které jim můžeme nabídnout, či živiny ze střeva, ale zároveň nám poskytují účinnou ochranu před jinými bakteriemi, a to těmi patogenními (schopnými vyvolat onemocnění). Zabírají jim totiž místo a choroboplodné bakterie zde mají ztížené uchycení. Bakterie jsou také hojně využívány v průmyslu - vytvářejí kvasnými procesy (fermentací) charakteristickou chuť sýrů, sojové omáčky, nakládaných okurek, kysaného zelí, octu, vína, jogurtů atd. Používají se také pro produkci acetonu či enzymů používaných v pracích prášcích. V lékařství se používají upravené bakterie, které produkují lidský inzulin, jiné hormony, protilátky a jiné látky užívané k léčbě mnoha lidí na světě.
Bakterie a jejich význam
Bakterie tudíž nejsou pouze těmi špatnými malými organismy, které nevidíme, ale jsou schopny nás zabít. Těch, které vyvolávají onemocnění u lidí, je v podstatě mnohem méně než těch neškodných či užitečných. Jsou to jedny z prvních organismů, které se na zemi objevily a přežívají dodnes, ba neustále se vyvíjí. Jsou schopny zabít tak složitého a neporovnatelně většího i silnějšího protivníka jako je člověk, kůň, slon. Zároveň bychom bez nich přišli o spoustu dobrých jídel, produktů i léků. Není se tedy čemu divit, že po dlouhá staletí vyvolávají ohnivé diskuze mezi vědci i širokou veřejností, že jsou studovány a nepřestávají lidi fascinovat.