Nadměrné vypadávání vlasů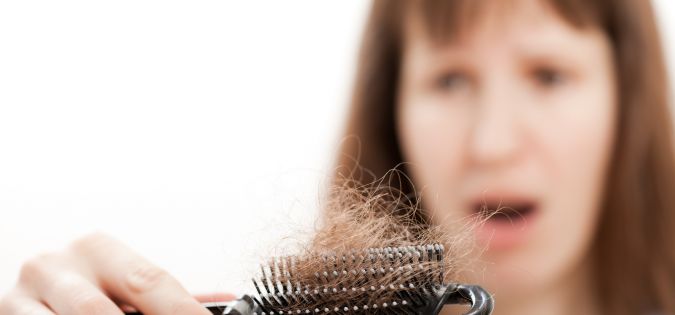 Nadměrné vypadávání vlasů není problém trápící pouze ženy, ale i muže. Zejména u mužů dochází se zvyšujícím se věkem k vytváření "koutů" na čele, lysinek na temeni, až většinou zbude pouze pruh vlasů na týlu. U žen vlasy vypadávají spíše v určitých místech, kde se tvoří okrouhlé lysinky. Jaké jsou příčiny a léčebné možnosti nadměrného vypadávání vlasů?
Nadměrné vypadávání vlasů  
Téměř nikdo z nás si asi nepřeje být dobrovolně plešatým, zvláště pro ženy je nadměrné vypadávání vlasů velkým problémem. Mít krásné a zdravé vlasy je totiž v dnešní době důležité vzhledem k určité sociální prestiži. Zcela normální je, že nám během dne vypadne něco okolo 100 vlasů, ty jsou ale nahrazovány novými vlasy. U nadměrného vypadávání je ztráta vlasů vyšší než přírůstek nových vlasů. Pro snížení výskytu vlasů a chlupů se užívá termínu alopecie. Nadměrné vypadávání vlasů může být spojeno i se špatnou kvalitou nehtů.  
Příčiny nadměrného vypadávání vlasů  
Příčin vypadávání vlasů je celá řada, ty nejčastější jsou:  
léky, např. některá hormonální antikoncepce. Po jejich vysazení nebo změně za jiné přestávají vlasy vypadávat.  

chemoterapie, vypadává při ní často i ostatní ochlupení. Vlasy obvykle vypadávají v ohraničených ložiskách. Po skončení chemoterapie by vlasy i chlupy měly znovu narůst.  

stres a špatná životospráva  

nedostatek vitamínů, zvláště vitaminu B, zinku, hořčíku a selenu  

naopak nadměrné množství vitaminu A  

velký a rychlý úbytek hmotnosti nebo poruchy příjmu potravy, např. anorexie  

cukrovka  

celiakie, neboli vrozené onemocnění charakteristické nesnášenlivostí lepku  

syfilis, bakteriální a pohlavně přenosné onemocnění. V počátečním stadiu se v místě vstupu infekce do těla vytváří tvrdý nebolestivý vřed. Pro další stadium jsou charakteristické nevolnosti, bolesti hlavy a svalstva, nechutenství, právě vypadávání vlasů a vyrážka po těle s bílými strupy. Po něm následuje různě dlouhé období, kdy je infekce skrytá a pak nastupuje třetí stádium. V něm se příznaky liší, jsou ale vždy velmi závažné.  

lupénka, tedy neinfekční onemocnění charakteristické červenými ložisky kůže s bílými odlupujícími se šupinami  infekce vlasaté části hlavy plísněmi, to postihuje nejčastěji děti. Mezi příznaky patří zarudlá svědící pokožka, lámání vlasů a vznik ložisek bez vlasů pokrytých bílými šupinami.  

dědičná lysivost , která se u žen vyskytuje zřídka, zato u mužů je poměrně častá  

onemocnění štítné žlázy, když štítná žláza sníží svojí funkci. Častěji se toto onemocnění vyskytuje u žen. Mezi další příznaky patří: otoky okolo očí, deprese, únava, váhový přírůstek, zácpa, bolesti svalů, špatná kvalita nehtů. Někdy mohou být problémy způsobeny jen nedostatkem jódu, lékař by měl ale vyšetřit, nejedná-li se o nějakou vážnější poruchu.  

hormonální změny, např. po porodu nebo při přechodu u žen. U mužů je však také vypadávání vlasů podmíněno hormonálně, a to množstvím testosteronu.  

používání špatné vlasové kosmetiky  

chemické, jako barvení, trvalá ondulace apod., a mechanické, jako časté pevné stažení vlasů do nejrůznějších účesů, kulmování atd. namáhání vlasů  

působení těžkých kovů, např. arsen, olovo  

psychická porucha, kdy si vlasy vytrhává sám nemocný  
Diagnostika
K diagnostice nadměrného vypadávání vlasů zkušenému lékaři většinou postačí podrobná anamnéza a vyšetření vlasů a vlasové pokožky. Také se sestavuje tzv. trichogram, ke zhodnocení počtu a kvality vlasů. Při něm se odebere na určitých místech hlavy malé množství vlasů, jejichž kořínky se zkoumají pod mikroskopem. K diagnostice se také provádějí krevní testy.  
Léčba nadměrného vypadávání vlasů  
Nadměrné vypadávání vlasů se dá ve většině případů upravit větším přísunem vitamínů, případně dalších potravinových doplňků a odpočinkem. Pokud však potíže přetrvávají dále déle jak měsíc, měli bychom navštívit dermatologa. Vždy je totiž nutné zjistit vyvolávající příčinu. Také o vlivu některých léků na vypadávání vlasů je vhodné poradit se s lékařem. Doprovází-li vypadávání vlasů vážnější komplikace, doporučujeme navštívit lékaře ihned. V léčbě alopecií se uplatňuje např. minoxidil, roztok s účinkem na vlasový folikul, dále místní léčba kortikoidy, fototerapie, systémová imunosupresivní léčba obvykle prednisonem či chirurgické metody, jako transplantace vlasů.