Katarakta neboli šedý zákal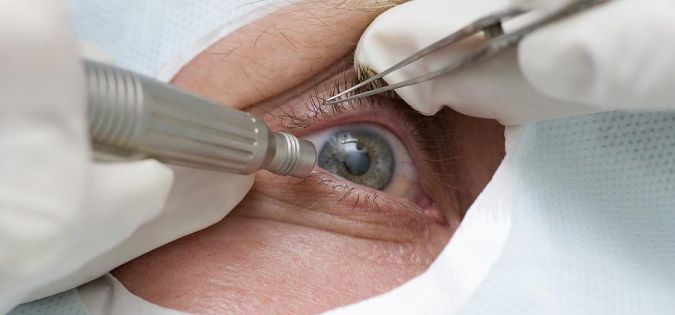 Katarakta neboli šedý zákal je onemocnění postihující oční čočku. Katarakta neboli šedý zákal způsobuje postupné zakalování čočky, takže postižený trpí zamlženým a neostrým viděním. Neléčená katarakta může způsobit i slepotu. Léčba katarakty neboli šedého zákalu spočívá v chirurgické úpravě čočky. Je to však operace ambulantní a pacient jde ten samý den domu.
Katarakta neboli šedý zákal
Zrak patří k nejdůležitějším smyslům člověka, neboť jím získáváme až 80% informací o okolním světě. Oko je tedy velmi důležitý orgán složený z množství struktur. Jednou z nich je i čočka. Nachází se v přední části oka mezi rohovkou a duhovkou, je dokonale průhledná a láme světlo tak, aby dopadalo  přesně do místa nejostřejšího vidění - na sítnici. Zabezpečuje tím přizpůsobení oka na pohled do dálky nebo do blízka. Tento jev se nazývá akomodace. Při ní dochází k oplošťování nebo vyklenutí čočky pomocí svalu, který je na čočku upnutý. Ve stáří čočka přirozeně ztrácí svou pružnost a tím schopnost zaostřovat na blízko.
Příčiny a projevy katarakty
Podstatou katarakty – česky šedého zákalu – je postupné zakalování čočky až do té míry, že znemožní průchod světla do oka, a pacient může oslepnout. Šedý zákal je nejčastěji způsoben stárnutím. Projevuje se hlavně zamlženým a neostrým viděním, narůstající krátkozrakostí, vnímáním menší sytosti barev na postiženém oku a častějším oslněním např. při řízení vozidel v noci nebo při pohledu do zdroje světla.Rizikovými faktory katarakty jsou hlavně : věk (až 70% lidí nad 75 let je kataraktou postiženo), dlouhodobé vystavování oka UV záření, kouření (u těžkých kuřáku nad 15 cig./den, je riziko katarakty až 3x vyšší než u nekuřáků), cukrovka a dlouhodobé užívání kortikosteroidů. Při kombinaci těchto faktorů riziko vzniku významně narůstá. Šedý zákal může také vzniknout u mladých lidí a to hlavně po silném tupém úderu nebo po proniknutí cizích těles do oka, po zasažení elektrickým proudem a po působení chemikálií zejména zásaditých.
Katarakta neboli šedý zákal a jeho léčba
Proces zakalování čočky nelze nijak zastavit ani zpomalit, proto je léčba katarakty pouze chirurgická. Provádí se dvojím způsobem. U první metody, nazývané extrakapsulární extrakce, se při lokálním umrtvení vytvoří malý řez rohovkou, tvrdé jádro čočky se vyoperuje ze svého pouzdra, do kterého chirurg poté vloží novou umělou čočku vyrobenou ze silikonu nebo z akrylátu a tím nahradí dioptrickou sílu odstraněné lidské čočky a umožní tak pacientovi ostré vidění i po operaci. Řez se zašije jemným stehem a operace je dokončena. Druhá metoda, nazývaná fakoemulzifikace, má velmi podobný princip, ale po úvodním malém řezu lékař jádro čočky nevyoperuje vcelku, ale nejprve ho ultrazvukem rozpustí na menší kusy a poté odsaje. Vytvoří tak prostor pro novou umělou čočku, kterou poté voperuje do oka. U tohoto zákroku nemusí být použity stehy díky menší šířce řezu v rohovce a proto je metodou šetrnější. Tato operace se provádí ambulantně a pacienti odcházejí domů ještě v den zákroku.
Katarakta neboli šedý zákal a jeho prevence
K preventivním opatřením proti vzniku katarakty patří ochrana očí používáním brýlí s UV filtrem, úspěšná léčba cukrovky a nekuřáctví. Pokud se však u vás nebo vašich blízkých začíná projevovat některý z výše popsaných příznaků, navštivte svého praktického nebo očního lékaře, který vás vyšetří a poradí jak postupovat dále. Zvláště u pacientů s cukrovkou jsou doporučeny pravidelné kontroly.