Bolesti prsu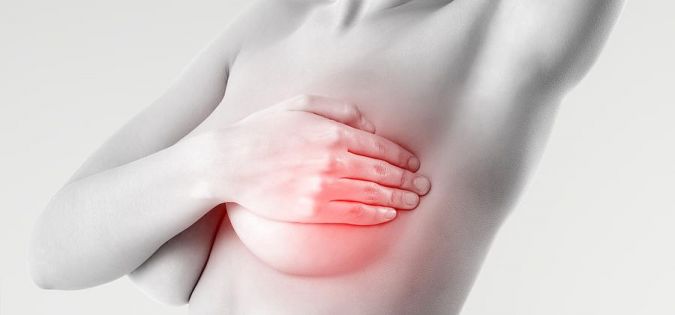 Bolesti prsu je možné rozdělit do skupiny bolestí závislých na změnách hladin hormonů estrogenu a progesteronu a do skupiny bolestí prsu na hormonech nezávislých. Při bolestech druhého typu se nejvíce obáváme nádoru prsu, jehož výskyt se zvyšuje po 40. roce věku ženy a ročně na něj umírá přes 1900 žen. Proto je důležité jakýkoliv nález dalším vyšetřením potvrdit či vyloučit.
Bolesti prsu
Bolesti v oblasti v prsů, jejich přecitlivělost nebo bolestivé napětí může být projevem závažného onemocnění nebo se může jednat jen o poruchy v hormonální rovnováze. Podle toho můžeme rozdělit bolesti prsů závislé na menstruačním cyklu, tzv. mastodynie a na menstruačním cyklu nezávislé neboli mastalgie. Bolesti související s cyklem se vyskytují nejčastěji a to před začátkem menstruace. S přibývajícím věkem se jejich četnost zvyšuje až do přechodu. Bolesti nezávislé na cyklu mohou souviset s řadou onemocnění, nejenom týkajících se prsu ale také žeber a páteře nebo srdce. U každé bolesti je nutná správná diagnostika a následně zvolená vhodná léčba.
Prs
Prs je párový orgán umístěný na přední části hrudníku skládající se z prsní žlázy, tuku a vaziva. Prsní žláza je složena z lalůčků a vývodů, které se spojují v jeden hlavní vývod ústící na prsní bradavce. Ta je obklopena lemem tmavší kůže nazývané prsní dvorec. Prsní žláza podléhá hormonálním změnám souvisícím s menstruačním cyklem, těhotenstvím a kojením. Je ovlivňována ženskými pohlavními hormony , estrogenem a progesteronem.
Hormonálně vázané bolesti prsu
Hormonálně vázaná čili cyklicky se vyskytující bolesti prsu se nejčastěji objevují u mladých žen před menstruací. Mohou ale přetrvávat po celou dobu menstruačního cyklu ve větší či menší intenzitě.  Výskyt bolestí prsů se zvyšuje s přibývajícím věkem a trvá až do menopauzy, přechodu. Je to dáno tím, že mladé ženy mívají v prsou více tkáně a méně tuku než v pozdějších letech. Jsou na pohmat tužší a uzlíkovité. Někdy se v prsou vyvinou drobné cysty, neboli dutinky naplněné tekutinou, nebo vazivově změněné oblasti, které bývají před menstruací citlivé a zvětšují se. To se nazývá fibrocystické onemocnění prsu a mění se v průběhu menstruačního cyklu. Větší obtíže způsobuje nedostatek ženského pohlavního hormonu progesteronu. Na druhou stranu nadbytek estrogenů způsobuje hromadění vody v organizmu a to vede k bolestem a napětím prsů. Do úvahy přichází také zvýšená hladina hormonu prolaktinu, onemocnění štítné žlázy nebo nedostatek vitaminů, hlavně E, B1, B6. Bolesti se vyskytují v obou prsech, přičemž v jednom může být výraznější. Další příčinou bolestí prsu může být nesprávně zvolená antikoncepce nebo pomocí ni opakované posouvání cyklu. Mnohdy však její správná volba a užívání tyto obtíže zmírní.
Hormonálně nevázané bolesti prsu
Necyklické bolesti prsu nejsou vázané na hormonální změny. Většinou se vyskytují u žen po 40. roku a souvisí se strukturními změnami prsu, obvykle s fibrocystickými změnami. Bolesti bývají pociťovány jen na jedné straně. Mohou být také způsobeny problémy s krční páteří, úrazy, zánětem pohrudnice, zánětem mezižeberních nervů nebo bolestivým úponem žeberních chrupavek. Další příčinou bolesti prsu je zánět prsu. Ten se projevuje zarudnutím a otokem prsu, někdy s hnisavým výtokem z bradavky. Bývá zvýšená teplota, únava a celková slabost. Většinou se vyskytuje u kojících žen. Bolesti prsu při kojení mohou být vyvolány také ucpáním mlékovodu i trhlinkami a poraněními na bradavce. Nejzávažnějším onemocněním, které je provázeno bolestí prsů je zhoubný nádor. Projevuje se hmatným útvarem v prsu, změnou jeho tvaru, velikosti nebo barvy, změnami na bradavce, jako například její vtažení, zdeformování, dále nehojící se vřed nebo výtok a zvětšení mízních uzlin v podpaží a v oblasti klíční kosti.
Diagnostika bolesti prsu
Při bolesti prsu je nutná její správná diagnostika. Je důležitá případná souvislost s menstruačním cyklem. Provádí se vyšetření hladiny hormonů, progesteronu, estrogenu a prolaktinu z krve. K vyloučení nádoru prsní žlázy je též potřebná mamografie nebo sonografie čili ultrazvuk. Mamografie je rentgenové vyšetření, které se provádí přístrojem zvaným mamograf. Mamografie se používá ke zjištění různých změn v prsu a má velký význam v boji proti rakovině prsu, jelikož je schopná ji zachytit již v nejčasnějším stádiu. Provádí se u žen mezi 45-69 lety a je jednou za 2 roky hrazeno pojišťovnou. Ultrazvukové vyšetření neboli sonografie se provádí u žen mladších, kterým se nedoporučuje podstoupit mamografii, jelikož mají vyšší podíl vaziva a žlázy než tuku a proto by rentgenový nález nebyl přesný. Pokud vás trápí bolesti prsu, je vhodné navštívit co nejdříve lékaře a tyto obtíže nepodceňovat.
Léčba bolesti prsu
Většina žen s cyklickými bolestmi prsu nepotřebuje žádnou léčbu nebo se doporučují rostlinné přípravky, vitamíny a vynechání kávy a nápojů s kofeinem. Doporučuje se také nosit dobrou podprsenku, která musí dobře sedět, nesmí škrtit, tlačit, avšak zabrání pohybu bolestivým prsům. Proti bolesti pomohou léky s paracetamolem nebo s acetylsalyciláty, případně nesteroidní antiflogistika.