Dialýza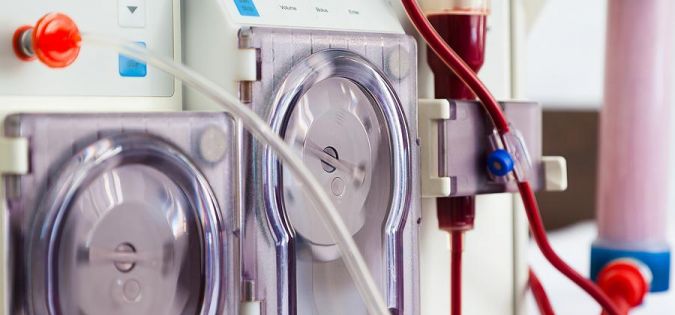 Dialýza nahrazuje funkci ledvin, a to jednak filtrací krve, jednak odstraňováním přebytečné vody z organismu. Rozlišujeme hemodialýzu a peritoneální dialýzu. Na jakém principu fungují? A proč je pro pacienty po dialýze nutná změna životního stylu, zejména omezení potravin s draslíkem či přisolování potravy?
Dialýza
Hlavní funkcí ledvin je odstraňování odpadních látek z těla (draslík, močovina apod.), vylučování přebytečné vody a udržení stálosti vnitřního prostředí. Pokud ledviny přestanou z různých důvodů plnit svou funkci, lze použít k jejich nahrazení rutinní metodu zvanou dialýza, laicky nazvanou umělá ledvina. K dialýze jsou nejčastěji indikováni pacienti, kterým selhávají ledviny např. po závažných úrazech, těžkých infekcích, dále nemocní se zvýšenou hladinou draslíku nebo močoviny v krvi a při otravách různými látkami.
Princip dialýzy
Podstatou dialýzy je přestup látek přes polopropustnou membránu. Během tohoto procesu dochází k filtraci krve, přesněji řečeno k odstraňování zplodin metabolismu. Zařízení, které umožňuje tento proces, je známé jako umělá ledvina. Umělá ledvina je technicky velmi složitá a klade poměrně vysoké nároky na obslužnost personálem. Proto je hemodialýza prováděna většinou v nemocnici nebo ve speciálních dialyzačních střediscích za pomoci školených ošetřovatelek. V České republice není zcela běžná domácí dialýza, avšak pacientům poskytuje znatelně vyšší komfort.
Hemodialýza
Čištění krve může probíhat dvěma způsoby, a to hemodialýzou nebo peritoneální dialýzou. Princip hemodialýzy spočívá v průtoku pacientovy krve přes přístroj nazývaný dialyzátor, ve kterém je umístěna polopropustná membrána (celulózová nebo syntetická), která odděluje krev s vysokou koncentrací odpadních látek od dialyzačního roztoku s velmi nízkou koncentrací látek, a do něhož se z krve na základě rozdílu koncentrací přesouvají tyto škodliviny. Podobně, jako se samovolně míchá ovocná šťáva s vodou, se čistí i krev od odpadních látek. K čištění krve hemodialýzou je však třeba mít vytvořen cévní přístup, zajišťující dostatečný přísun krve do dialyzátoru. Nejčastějším místem je podklíčková tepna a tepna vřetenní na předloktí ruky. Po zajištění cévního přístupu je pacient napojen na umělou ledvinu. Následně 4–5 hodin pohodlně leží a čeká na dokončení procedury. Tento postup je podle závažnosti onemocnění a podle rozhodnutí ošetřujícího lékaře nutné několikrát za týden opakovat, zpravidla dvakrát až třikrát.
Peritoneální dialýza
Druhou metodou je peritoneální dialýza. Princip je v podstatě shodný s hemodialýzou, tj. přechod látek přes polopropustnou membránu. Tou však v tomto případě není umělá membrána v dialyzátoru, nýbrž přirozená blána v břišní dutině zvaná pobřišnice neboli peritoneum. Pacient má v břišní dutině zavedenou dlouhou hadičku, tzv. katétr, kterým dovnitř proudí dialyzační roztok. Nemocnému se nejdříve napustí a po uplynutí dané doby vypustí dialyzační tekutina z dutiny břišní, tím je pak očistná procedura dokončena. Výměna roztoku je obvykle prováděna 4–5krát za den. Peritoneální dialýza je pro lidi léčené tímto způsobem výhodnější díky nepotřebě cévního přístupu a snadné obsluze, kterou zvládne proškolený pacient sám v domácích podmínkách.
Život při dialýze
Nedílnou součástí terapie dialýzou je specifický životní styl. Dialyzovaní nemocní musejí dodržovat přísnou dietu. Jde především o snížený přísun vody. Tělo se jí totiž zbavuje hlavně močí, a jelikož pacienti s onemocněním ledvin většinou nemočí, ale zadržují vodu uvnitř těla, mohou při vysokém přísunu vody trpět nepříjemnými otoky. Dále se pacienti po dialýze musí vyhýbat stravě s vysokým obsahem draslíku, jako je ovoce, zelenina, džemy nebo luštěniny. Draslík totiž může při vysokých koncentracích způsobovat poruchy srdečního rytmu a tím ohrožovat funkčnost krevního oběhu. Omezení se týká také přísunu soli (kvůli sodíku, který v těle zadržuje vodu) a v neposlední řadě i snížení přísunu fosforu.