Kardiomyopatie - léčba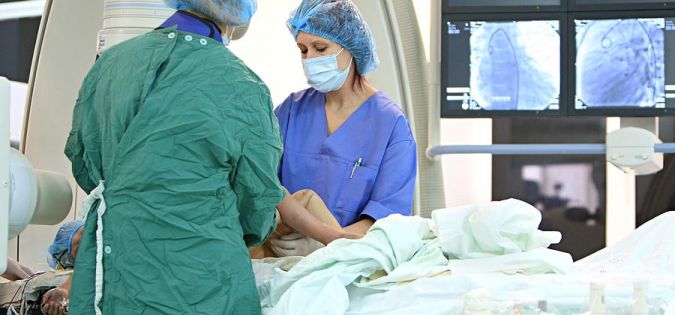 Kardiomyopatie je onemocnění, při kterém dochází vlivem nadměrného ztluštění stěny srdečních komor nebo vlivem jejich nadměrného roztažení, k nesprávné funkci srdce. Léčba kardiomyopatií je zaměřena na zefektivnění práce srdce, upravení nesprávně vedených elektrických impulzů v srdci a v určitých případech se kardiomyopatie léčí chirurgickým zákrokem. Prognóza pacientů s kardiomyopatiemi je však velmi problematická.
Léčba kardiomyopatie
Kardiomyopatie je označení pro několik onemocnění, která postihují srdeční sval neboli myokard. Podkladem kardiomyopatií je chorobné ztluštění nebo roztáhnutí myokardu, případně změny v jeho složení, viditelné spíše pod mikroskopem. Odborně mluvíme o hypertrofické, respektive dilatační kardiomyopatii. Vzhledem k tomu, že je postižen orgán, jehož úloha v těle je zcela zásadní, jsou i příznaky kardiomyopatie a způsob, jakým může pacientovi uškodit, velmi pestré. Jejich diagnostika a léčba představuje pro odborníka někdy velmi náročnou a složitou úlohu.
Vznik a projevy kardiomyopatie
Příčina vzniku kardiomyopatie je v období diagnózy velmi náročně zjišťována. Existuje řada onemocnění a stavů, které ke vzniku kardiomyopatie mohou vést jako například myokarditida, dědičná predispozice, alkoholismus a další. Projevuje se dušností, bolesti na hrudi, únavností a sníženou výkonností. Někdy však nemusí žádně příznaky být přítomny.
Léčba kardiomyopatie
Léčba kardiomyopatie je velice obtížná a komplikovaná. První kroky v léčbě kardiomyopatie vedou ke snížení rizikových faktorů, tedy snížení konzumace alkoholu, léčba poruch funkce štítné žlázy či snížení vysokého krevního tlaku. Toho se dosahuje farmakologickou léčbou, za užití specifických léčiv. Vzhledem k tomu, že kardiomyopatie bývá doprovázena arytmií, tedy poruchou rytmu srdce, je nutné tento stav léčit za pomocí léků, tzv. antiarytmik. Léčba se poněkud liší v závislosti na typu kardiomyopatie.
Léčba dilatační kardiomyopatie
Dilatační kardiomyopatie je onemocnění srdce, při kterém dochází k roztažení stěny srdečních oddílů, především levé srdeční komory. Léčba spočívá ve farmakologické podpoře srdečního svalu a také tzv. resynchronizační léčbě, kdy jsou současně stimulovány ke stahu obě srdeční komory. U pacientů s dilatační kardiomyopatií hrozí náhlé úmrtí v důsledku selhání srdce, a proto se často v rámci léčby implantuje kardioverter-defibrilátor. Je to přístroj, který stimuluje srdce ke své činnosti.  V některých případech jsou pacienty indikováni k transplantaci srdce.
Léčba hypertrofické kardiomyopatie
Hypertrofická kardiomyopatie je onemocnění srdce, při kterém dochází ke zbytnění levé srdeční komory i dalších oddílů srdce. V důsledku zbytnělé levé komory se tato plní mnohem pomaleji, zvyšuje se v ní tlak a ten se přenáší i na plíce. Obvykle jde o dědičné onemocnění. Léčba této formy kardiomyopatie je farmakologická, jejímž cílem je tlumit nadměrné stahy svaloviny komor. Někdy je účinná tzv. katetrizace srdce, kdy se do něj zavede speciální hadička, na konci které je zařízení umožňující úpravu myokardu. Operačním výkonem, užívaným pro tuto diagnózu, je tzv. perkutánní transluminální septální myokardiální ablace. Jde o záměrné uzavření věnčité tepny zásobující určitou část srdce, čímž dojde k infarktu v této oblasti a po jeho zhojení zbude tenká stěna. Další možností je myektomie, tedy chirurgické odstranění části svaloviny, tím ztenčení ztluštělé stěny. V neposlední řadě máme možnost implantovat pacientovi kardiostimulátor, který bude působit na pravou komoru, a tím může dojít ke zlepšení funkce srdce. V jistých případech je jediným možným řešením transplantace srdce. Samozřejmostí je posouzení léků, které má pacient užívat kvůli případnému jinému onemocnění a které by mohly průběh kardiomyopatie zhoršit nebo mít dokonce fatální následky.
Prognóza kardiomyopatie
Kardiomyopatie nemá dobrou prognózu, jelikož jde o srdeční selhávání. I když byl v posledních letech zaznamenán výrazný pokrok v léčbě kardiomyopatie, jde pořád o onemocnění, které se dá léčit, ale málokdy zcela vyléčit. Vzhledem k tomu, že existuje několik typů kardiomyopatií, jsou i vyhlídky rozdílné. U nejčastějšího typu, dilatační kardiomyopatie, ročně umírá do 20 % pacientů, u jiného typu, hypertrofická kardiomyopatie, je to kolem jednoho procenta. Nelze ale nezmínit, že díky čím dále tím kvalitnějším jak diagnostickým, tak léčebným postupům se prognóza pomalu zlepšuje.